Genius Party Beyond
2008 | 82 mins | In Japanese with English subtitles | Director: Mahiro Maeda, Kazuto Nakazawa, Shinya Ōhira, Tatsuyuki Tanaka, Kōji Morimoto | Blu-ray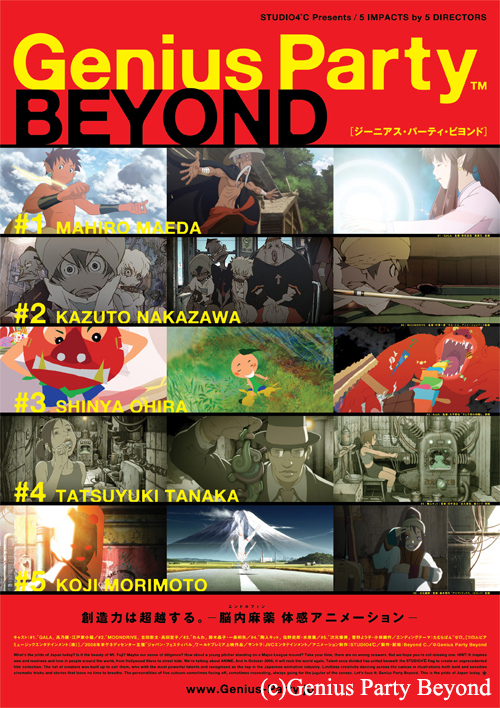 The creativity is transcendent. This is an ambitious project by STUDIO4℃. With the concept of "limitation = ZERO," five gifted directors collaborate with their characteristic short animations.




■GALA by Mahiro Maeda
This oriental fantasy "GALA" is created with Maeda's unfettered imaginations and profound knowledge of myths and ancient civilizations. A huge object suddenly emerges in the land of gods and some start having a feast to stimulate its birth.
■MOONDRIVE by Kazuto Nakazawa
The four notorious outlaws in the Lunar City, Jico, Yuki, Mitchy, and Pekepeke, cannot read the ancient letters on an old map! According to a scientist, it's a map of the map of a legendary treasure….
■"WANWA" THE DOGGY by Shinya Ōhira
A little boy goes into an adventurous world in his dream, an "innocent nightmare," composed of colorful and simple designs inspired by paintings of children.
■TOUJIN KIT by Tatsuyuki Tanaka
A young girl gives life to stuffed toys by injecting a mysterious life-force called "Tochu" using a strange machine. However, the forbidden game she indulges herself in doesn't last long…
■DIMENSION BOMB by Kōji Morimoto
Shin, a boy wearing a pupa on his head, meets a girl, Kuu. Days that he spends with this unrestrained, unique girl gradually changes his heart, until one day she broke his heart, "I don't like you anymore."
* Visitors must meet the requirements of the Vaccine Pass and use the LeaveHomeSafe mobile application to scan the venue QR code to gain access to the theatre.
Ticket Price
Standard $85
MCL MAX Member $76
Children / Full-time students / Elderly $45

Ticketing
Internet booking: www.mclcinema.com
Mobile ticketing app: MCL Cinemas - Ticketing

Enquiry
Public Relations and Cultural Affairs Division
Consulate-General of Japan in Hong Kong
Tel: 2522-1184
E-mail: infojp@hn.mofa.go.jp

Japanese Film Selection 2022 – Just Anime!
Date: 12-20/11/2022
Presented by: Consulate-General of Japan in Hong Kong and the Japan Foundation
Co-presented by: MCL Cinemas
Supported by: Japan Autumn Festival in Hong Kong - Rediscovering Nippon