GENIUS PARTY has been classified as Category III


Please note that GENIUS PARTY (13 Nov) has been classified as Category III--- Only persons aged 18 and above are permitted to watch the above film at the cinema. Proof of age may be required upon audience admission. For those who are below 18 and have purchased tickets, please visit MCL Telford Cinema in person to request refund before the screening of the film. We are sorry for any inconvenience caused.
Genius Party
2007 | 103 mins | In Japanese with English subtitles | Director: Atsuko Fukushima, Shōji Kawamori, Shinji Kimura, Yōji Fukuyama, Hideki Futamura, Masaaki Yuasa, Shinichirō Watanabe | Blu-ray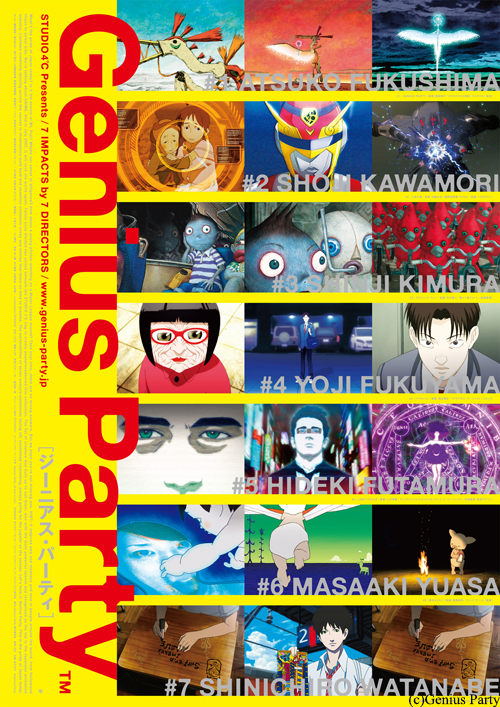 The limitation is ZERO. Gifted creators in the Japanese animation industry gathered at STUDIO4℃, and a revolutionary party movie was born. Highly unique styles of seven independent episodes directed by seven directors' interplay and stimulate your sensibilities.

■GENIUS PARTY by Atsuko Fukushima
A world of imagery with a motif of the moment in which images are born inspires your sensations - the empty wild land, a running birdman, and flowers of inspiration.
■SHANGHAI DRAGON by Shōji Kawamori
loves to draw. One day, snot-nosed kindergartener Chinkuro finds a mysterious stick-like object, "the notion-materialize system," that materializes things drawn with it. Children are captivated by the mysterious power of the stick, but then an unexpected giant enemy emerges!
■DEATHTIC 4 by Shinji Kimura
No "life" is allowed to exist in the underworld located deep underground. DEATHTIC4 begins with an encounter of Rot and a living frog. Rot tries to send the frog back to the living world with his fellows, and they head for "the eye of Uzu Uzu storm".
■DOORBELL by Yoji Fukuyama
As high school student Yu enters his house, he realizes that something is wrong… and reactions of his mother and sister are completely unexpected. "Did the entrance door just open? But I don't see anyone." At that moment, what Yu sees beside his family is "another" himself who has already come home…
■LIMIT CYCLE by Hideki Futamura
A man gets out of the office-prison and encounters a fantastical butterfly. While he chases the butterfly, he comes across another man who looks exactly like himself.
■HAPPY MACHINE by Masaaki Yuasa
A toddler gets thrown into the savage plain. As he travels though his peculiar journey by four-wheeled motorcycle, the toddler meets weird things like a little flame guy, small plants, a strange, flying creature and massive natural phenomena.
■BABY BLUE by Shinichirō Watanabe
The childhood friends Sho and Hazuki who used to be close somehow haven't been talking recently as years go by. They buy handheld fireworks on the way and head for Enoshima, a short exciting trip for the day.
* Visitors must meet the requirements of the Vaccine Pass and use the LeaveHomeSafe mobile application to scan the venue QR code to gain access to the theatre.
Ticket Price
Standard $85
MCL MAX Member $76
Children / Full-time students / Elderly $45

Ticketing
Internet booking: www.mclcinema.com
Mobile ticketing app: MCL Cinemas - Ticketing

Enquiry
Public Relations and Cultural Affairs Division
Consulate-General of Japan in Hong Kong
Tel: 2522-1184
E-mail: infojp@hn.mofa.go.jp

Japanese Film Selection 2022 – Just Anime!
Date: 12-20/11/2022
Presented by: Consulate-General of Japan in Hong Kong and the Japan Foundation
Co-presented by: MCL Cinemas
Supported by: Japan Autumn Festival in Hong Kong - Rediscovering Nippon