1)1 September – 9 October 2022 11am – 7pm
SAORI International Exchange Exhibition
Celebrating the 50th Anniversary of SAORI
2)23 September 2022 5-6:30pm
Opening Ceremony: Fashion Show, Storytelling, Community Music, Bollywood Dance and Symbiotic Dance Performance
3)24-25 September 2022 3pm - 5pm; 7:30pm - 9:30pm
International Online Conference
4)2, 3, 8 & 9 October 2022 11am - 12pm; 2pm - 5pm
SAORI Workshop: Cruise around Tsunami Havens
5)10 September 2022 3-5pm
Closing Ceremony: Sogetsu Ikebana Flower Arrangement, Storytelling, Sheng Performance, Community Music and Butoh Dance
SAORI promotes inclusion and expresses diversity. SAORI is not a disability art but an art for all. SAORI weavers are bonded to one another as collaborators in a liberating process often taking place in a collective setting of the Hiroba.
So, in this gathering which is hybrid, actual and in cyberspace, we are having this grand exhibition, online fashion shows and an online conference where we shall share the various facets of SAORI.
"緎 SEAM" means connection, which came from an ancient Chinese poem named Scripture of poems - National rhyme - Zhao's territorial - Lamb. We are honored to invite overseas SAORI weavers and groups to participate in this joint exhibition. We hope that through the process of mutual exchange and appreciation, we can deepen our understanding of SAORI 's aesthetics of freedom, and to expand the horizon of creativity, embracing the joy, the great love and the harmony.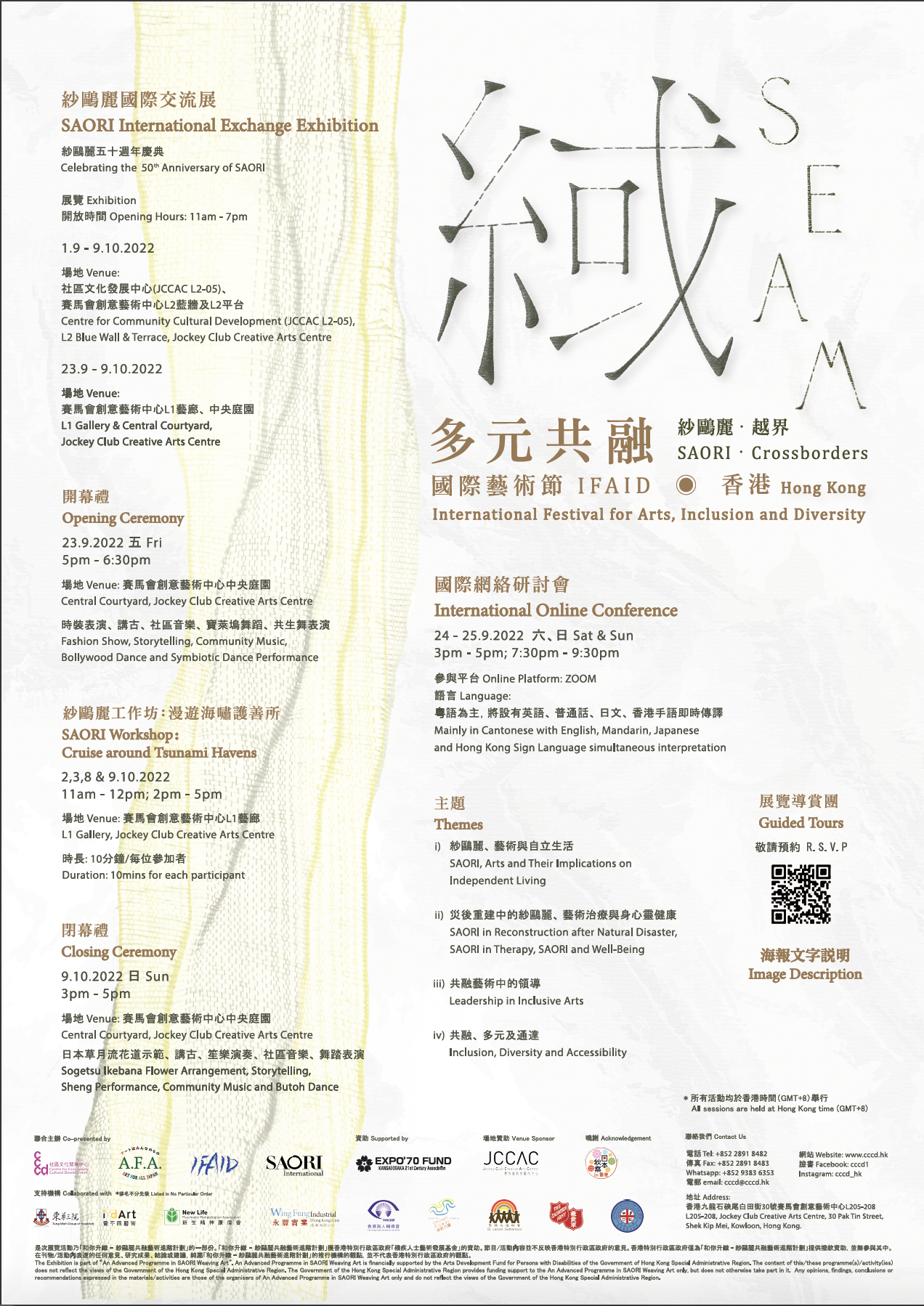 Registration in Advance
https://linktr.ee/saoricccd
Entrance Fee
Free of charge
Website
Website:
www.cccd.hk
Event infos:
https://linktr.ee/saoricccd
Facebook event page:
https://fb.me/e/28Da7ebUE
Inquiry
Tel: +852 2891 8482
Fax: +852 2891 8483
Whatsapp: +852 9383 6353
email:
cccd@cccd.hk
Website:
www.cccd.hk
Facebook: cccd1
Instagram: cccd_hk
Address: L205-208, Jockey Club Creative Arts Centre, 30 Pak Tin Street, Shek Kip Mei, Kowloon, Hong Kong.