Mayumi Nakamura Ceramics Exhibition, 20 Oct - 19 Nov (Arts & Crafts Studio, H401 PMQ)
Exhibition concept: from the artist Mayumi Nakamura
I have always worked to unify painting and crafts.
This is similar to the decorative beauty found in the crafts practised by the Japanese Rimpa school in the past.
I create my works based on my own feelings about the current events, news, social networking services, popular words, information and atmosphere that surrounds me. Sometimes the earth is filled with the emotions that overflow from the intense and strong resentment, and at other times it expresses the rhythm of beautiful and peaceful everyday life, and in various forms. The work produced this time was conceived in the world of the pandemic, and the 'hope' that the world will be united with the 'instability' and the 'extraordinary' born from the environment that changed day by day is put into a form that has the attributes of both a 'vessel' and 'not a vessel', and glaze is applied to it in layers and fired to complete the work. The painting completed by firing the glaze over and over is one expression of the work.
Additional information :
The opening party will be held on 20 October from 16:00, and we would like to make a wide appeal. We look forward to seeing you there.
Meet the ARTIST !
On 21 and 22 October you can talk directly with ceramic artist Mayumi Nakamura and understand her work, so please come along.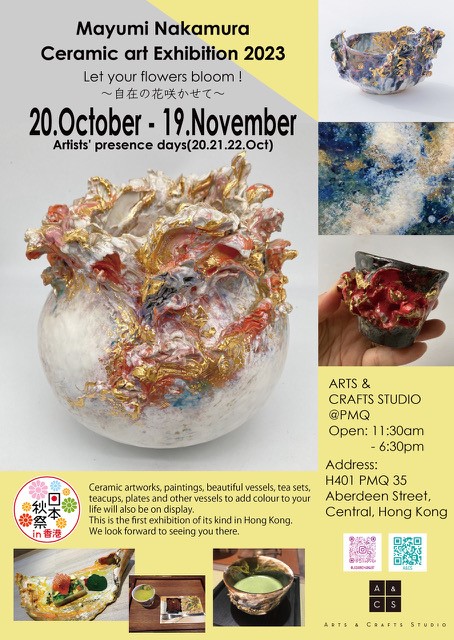 Registration in Advance
Not necessary
Entrance Fee
Free of charge
Website
https://ac-std.com/blogs/news
Inquiry
ARTS & CRAFTS STUDIO
WINKY/ JUNKO
9155 9374