PRINCESS ARETE
2001 | 105 mins | In Japanese with English subtitles | Director: KATABUCHI Sunao | Blu-ray
2001 Japan Media Arts Festival, Animation Division Jury Selections
2002 Tokyo Anime Award, Domestic Feature Film Category Winner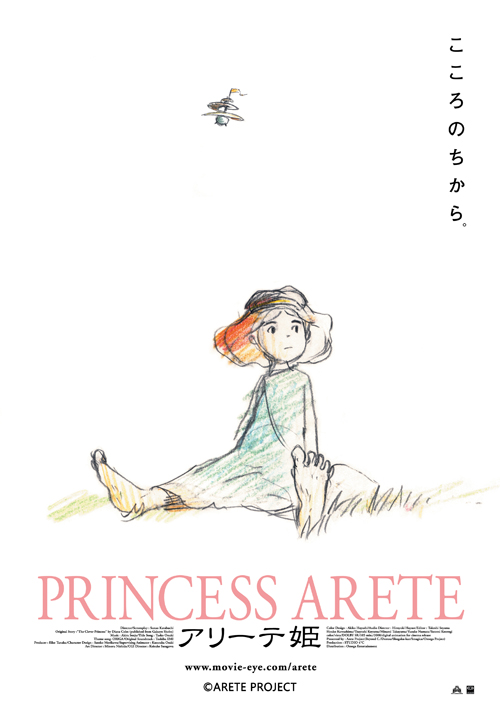 "Although not the same as a real magician, there is something magical in the hands of humans. If that is the case, then my hands are also..."
The first theatrically released animated feature film of director KATABUCHI Sunao (Famous Dog Lassie (1996), In This Corner of the World (2016)), based on the British children's book The Clever Princess (1983).
It was always thought to be the fate of a medieval princess to stay in the small room at the top of a castle tower, quietly waiting for the man who will be her bridegroom, but Princess Arete (Voice : KUWASHIMA Houko) does not agree with that.
While Arete peering out from her tower window at the people living in the castle town far below, she pondered the meaning of life. One day, he finds a secret escape hatch by deciphering an old book, and she escapes the castle and heads for the town. The castle town turns out to be a world of skilled workers. The sight of each one of them creating meaningful objects with their own hands seems like magic to her. When the king offers Arete a husband, she rejects all the suitors, but eventually taken away by a sorcerer with fancy words and magic.
Brave and clever, Arete uses her powers to break the magic that seals her heart and create her own future with her hands, setting out on a new path.
* with post-screening talk by Mr. Honkaz Fung, Board Member of Film Cultural Centre (Hong Kong)
** The event venue is within the campus of tertiary institutions. Visitors must meet the requirements of the Vaccine Pass and use the LeaveHomeSafe mobile application to scan the venue QR code to gain access to the campus.
For details, please refer to
HKMU LiPACE
https://www.hkmu.edu.hk/static_content/Vaccination_Requirement_Table_Final.pdf
For those who would like to join, please e-mail to registration@hn.mofa.go.jp with your full name(s), contact number, and preferred screening(s). Please mark "Autumn Animation" as the email subject.
An email notification will be sent to successful applicants in due course.
Free admission, limited seats, register now!
Enquiry
Public Relations and Cultural Affairs Division
Consulate-General of Japan in Hong Kong
Tel: 2522-1184
E-mail: infojp@hn.mofa.go.jp

Autumn's Animation Free screenings
Date: 5-6/11/2022
Presented by: Consulate-General of Japan in Hong Kong and the Japan Foundation
Co-presented by: HKMU LiPACE, HKU SPACE
Supported by: Japan Autumn Festival in Hong Kong - Rediscovering Nippon