Children of the Sea
2019 | 111 mins | In Japanese with English subtitles | Director: WATANABE Ayumu | DCP
Best Animated Film, Mainichi Film Awards 2019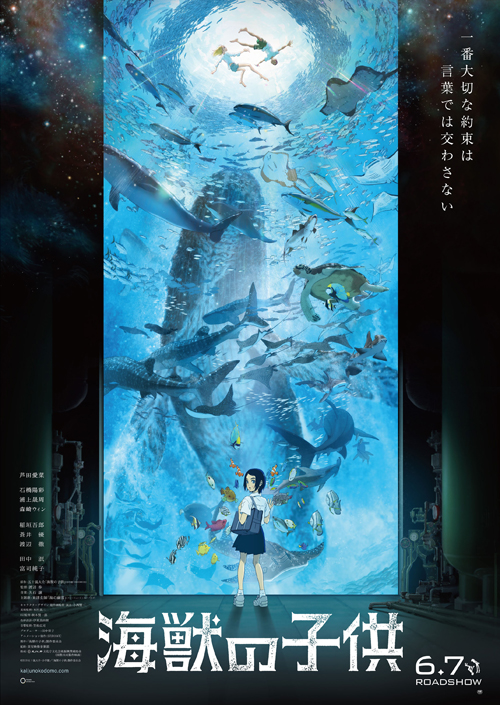 From the award-winning STUDIO4℃ x Joe Hisaishi x Kenshi Yonezu, an underwater fantastic odyssey is about to begin!

Ruka is a young girl whose parents are separated and whose father works in an aquarium. When two boys, Umi and Sora, who were raised in the sea by dugongs, are brought to the aquarium, Ruka feels drawn to them and begins to realize that she has the same sort of supernatural connection to the ocean that they do.
Umi and Sora's special power seems to be connected to strange events that have been occurring more and more frequently, such as the appearance of sea creatures far from their home territory and the disappearance of aquarium animals around the world.
However, the exact nature of the boys' power and of the abnormal events is unknown, and Ruka gets drawn into investigating the mystery that surrounds her new friends.
* Visitors must meet the requirements of the Vaccine Pass and use the LeaveHomeSafe mobile application to scan the venue QR code to gain access to the theatre.
Ticket Price
Standard $85
MCL MAX Member $76
Children / Full-time students / Elderly $45

Ticketing
Internet booking: www.mclcinema.com
Mobile ticketing app: MCL Cinemas - Ticketing

Enquiry
Public Relations and Cultural Affairs Division
Consulate-General of Japan in Hong Kong
Tel: 2522-1184
E-mail: infojp@hn.mofa.go.jp

Japanese Film Selection 2022 – Just Anime!
Date: 12-20/11/2022
Presented by: Consulate-General of Japan in Hong Kong and the Japan Foundation
Co-presented by: MCL Cinemas
Supported by: Japan Autumn Festival in Hong Kong - Rediscovering Nippon